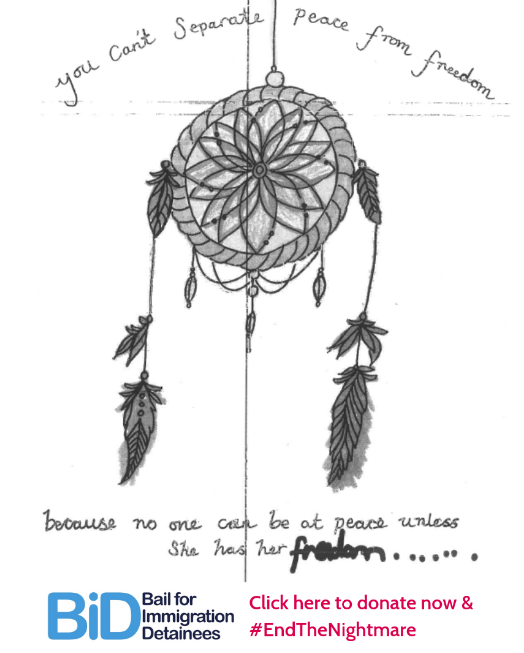 Our Nightmare before Christmas campaign was inspired by one of our clients Maria. Maria is a 36 year old EEA national who has lived in the UK since she was eight years old or as she put it "I am as English as my neighbours".
Detained and terrified of deportation, her nightmares led her to create this drawing of a dream catcher to hang above her bed and give her the courage to fight for her freedom.
BID is a small, independent charity which is funded entirely by voluntary donations. Every penny that you donate this Christmas will go directly into our advice work, helping people like Maria to fight for their freedom.

£10 a month
Giving a regular gift by Direct Debit helps BID to fight for more people to be released from immigration detention. By joining our team of regular supporters, you enable us to plan for the future.
Give a regular gift
£33
A one-off donation of £33 pays the travel costs of one of our legal advisers when they visit an immigration removal centre or a prison to deliver one-to-one advice sessions to detainees. Make a donation
£250
A one-off gift of £250 would cover the cost of our advice phone lines (line rental, outgoing calls to detainees and barristers, sending faxes) for one week.
Make a donation
If you would like more information about making a donation, please contact [email protected].
BID is a member of the Fundraising Regulator, committed to best practice in fundraising. Read our fundraising promise here and our fundraising complaints procedure here.