BID staff are currently working from home and are unable to supervise volunteers. As a result, we are not accepting volunteer applications at present. We continue to review the situation, so please continue to check this page for updates.
BID could not function without the support and commitment of its volunteers. We provide training and hands-on experience, under the supervision of an experienced legal adviser and in return ask for relevant qualifications, experience and a regular time commitment. Travel expenses are reimbursed to a maximum of £10 per day.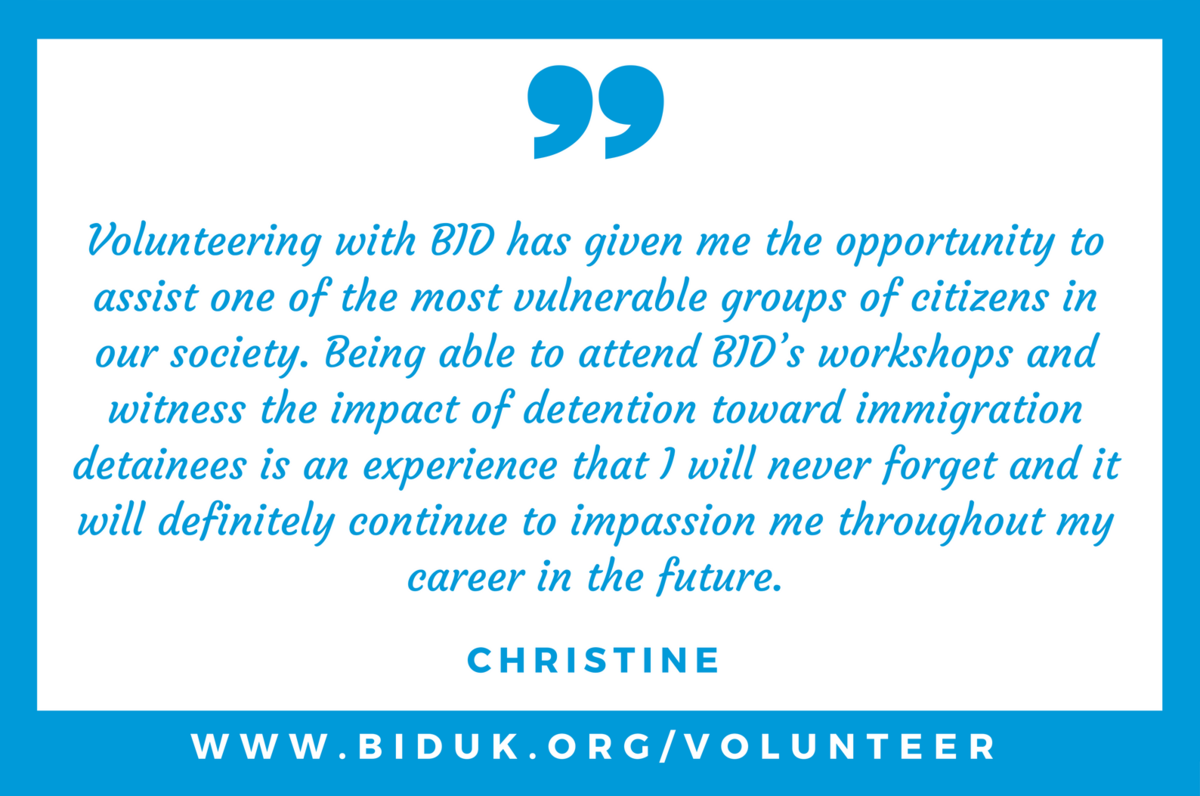 How to volunteer
For more general information about volunteering at BID please read the information pack which can be downloaded towards the bottom of this page.
We recruit for casework volunteers on an ongoing basis. Placements are subject to availability and demand is high. We prioritise those with the most relevant experience and who can offer the most time commitment. In turn, volunteers receive training in asylum, immigration, human rights law, bail and detention to enable them to take exams to qualify as Level 1 caseworkers with the Office of the Immigration Services Commissioner. Please complete the application form, which can be downloaded at the bottom of this page, and return it to the address noted on the form.
Research & policy volunteers and fundraising & communications volunteers are taken on at irregular intervals and are usually recruited separately for particular projects. You can download our job description for research & policy volunteers from the bottom of this webpage. Please send your CV to [email protected] if you wish to be considered for any research, policy, fundraising or communications volunteering opportunities which may arise.
BID relies wholly upon pro-bono barristers to provide representation to our clients. Without their help our work would not be possible if you are interested in volunteering as a pro-bono barrister please email [email protected] who will be delighted to hear from you.

---
Downloads
BID volunteer caseworker role description
BID volunteer casework information pack
Casework volunteer application form
Research and policy volunteer role description
Fundraising and communications role description
---